At Sulcata Psychiatry, we offer multiple options for monitoring health markers. We believe it is imperative to treat the body and mind as a whole, and we encourage all patients to have baseline lab testing at minimum annually to make sure there are no underlying pathological issues contributing to psychiatric or physical complaints. We always include multivitamin testing in our baseline assessments, and we can add hormonal checks if indicated as well. Our phlebotomist is available for in-office blood draws for convenience.
We have partnered with Tribal Diagnostics to provide affordable laboratory testing with and without insurance. However, if you prefer to get your labs drawn elsewhere, we can send an electronic lab order to any Quest location you prefer.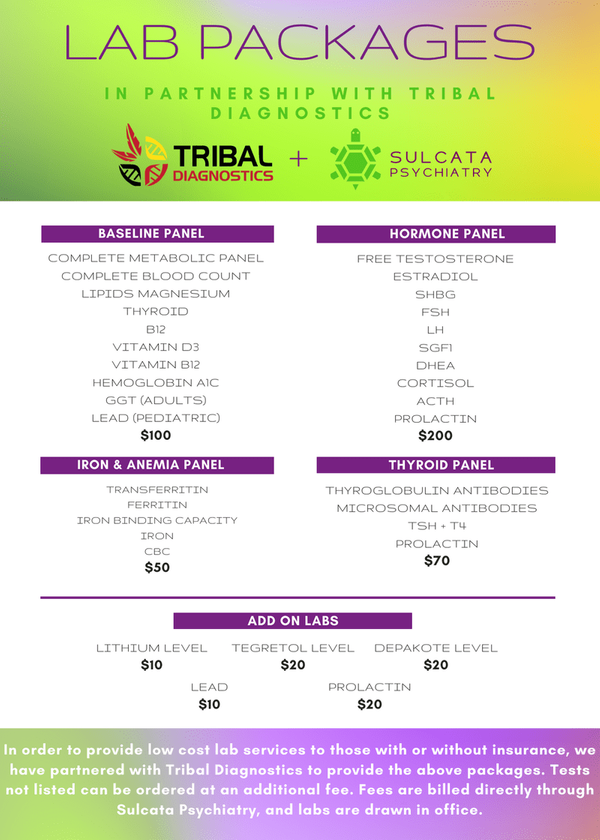 Bloodwork
We have put together several packages to provide low cost laboratory services for our patients without insurance in partnership with Tribal Diagnostics. If you have insurance laboratory coverage, your copay will be determined and billed by Tribal Diagnostics directly based on your plan coverage.
Labs are drawn in clinic so you don't have to schedule any outside appointments to get bloodwork done.
Other tests can be performed or added on at additional cost determined prior to testing.
Billing is done in house, so you won't receive any surprise letters demanding ridiculous lab fees weeks later. You know the cost prior to having any labs performed.