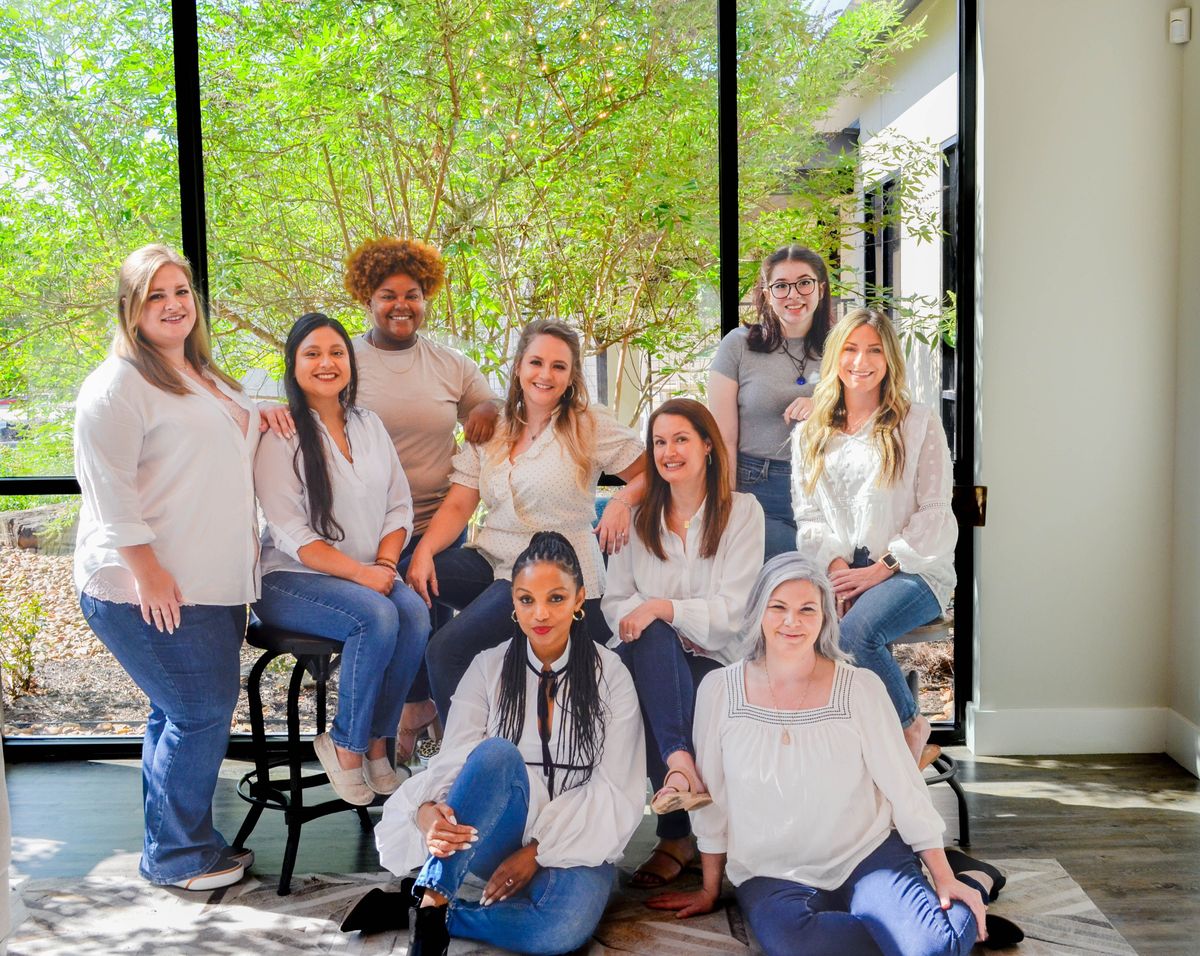 Sulcata Psychiatry
Stoni Johnston founded Sulcata Psychiatry to provide a personalized and connected experience for patients with mental health needs. Several years later, she joined up with co-owner Amanda Rogers, LCSW to provide more comprehensive care from a team approach. Stoni & Amanda believe that treatment should be approached as a nurturing relationship between provider and patient, and so they have sought to create an environment that removes traditional barriers that get in the way of communication and forming a relationship with your provider on a personal level, while still maintaining professional boundaries and standards of care.
Our providers create personalized treatment plans for ages 3+ that may include alternative, holistic, and conventional treatments for diagnoses such as autism, attention-deficit hyperactivity disorder (ADHD, anxiety, depression, post-traumatic stress disorder (PTSD), and bipolar disorders. We believe in combining the medical and therapeutic specialties to create a well-rounded integrated system of care, offering both medication management services as well as therapy services. When all providers are communicating regularly, it creates an environment of collaboration between our different specialties, and ultimately better outcomes and support for our patients.
All Sulcata Psychiatry providers believe in the research-backed notion that people respond better when they feel like their provider truly cares, listens, and makes them a partner in their mental health care plan. We get to know each patient as a whole person, not just a list of reported symptoms, so that we can celebrate every little victory with you along the way. Our entire team aims to always be responsive, accessible, kind, and understanding, so that we can meet you wherever you are in your mental health journey.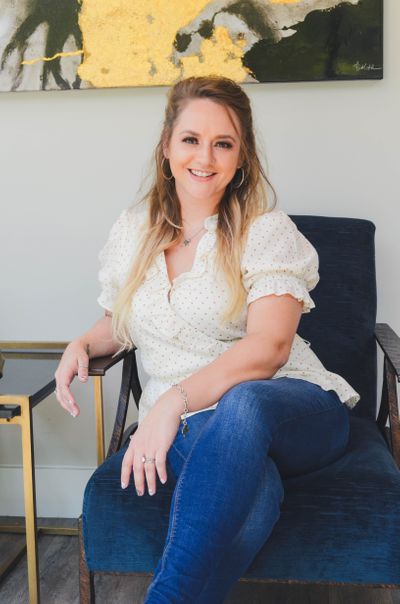 Stoni Johnston
APRN, MSN, PMHNP-BC
As a board-certified psychiatric mental health nurse practitioner, Stoni offers comprehensive and individualized care for children, teens, and adults ages 3-50 at her office in Houston, Texas. She primarily specializes in treating children, teens, and young adults with executive functioning, mood, and anxiety disorders.
Just as she strives to make a genuine connection with every patient, Stoni wants her patients to feel connected with her as a person as well. Her favorite food is queso, which she firmly believes can be put on top of anything. She is married with two children, a cat named Lenny, and two Sulcata tortoises who spend their days plotting escape from her yard. Turtles are her favorite animal, and her hobbies include reading nightly, refinishing furniture, crafts, and scrapbooking.
Born and raised in the Houston area, Stoni considers herself a lifetime Longhorn at heart since completing her Bachelor of Arts in Psychology at the University of Texas in Austin in 2013. She went on to earn her Bachelor of Science in Nursing at the University of Texas Medical Branch at Galveston and started working as a pediatric nurse. This experience continues to influence the care she provides, as she loves working with children and adolescents. Stoni finished her Master's in Nursing with a specialization in psychiatry at Vanderbilt University in Nashville, Tennessee in 2016.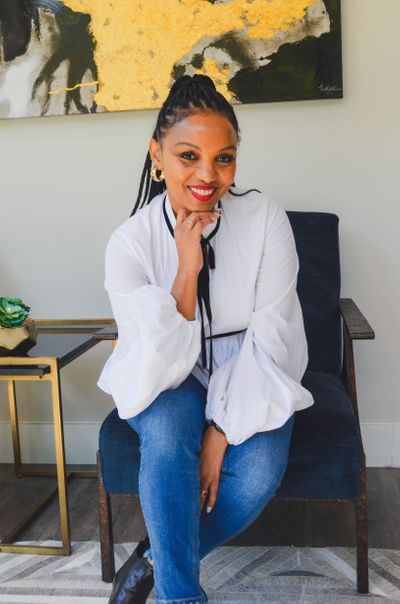 Jamillah Elvehoey
APRN, MSN, PMHNP-BC
As a board-certified psychiatric mental health nurse practitioner, Jamillah offers comprehensive and individualized care for teens and adults at the Tomball & Cypress locations in Houston, Texas.
Jamillah graduated her Psychiatric Masters in Nursing program with honors from University of Texas, Houston Health Science Center. Her healthcare journey began as Registered Nurse after getting her bachelor's degree in nursing from University of Texas Arlington. She has experience working in ICU, Telemetry, Home Health, School Nursing, and inpatient psychiatric units.
Jamillah believes in a holistic approach in treating individuals, emphasizing the empathetic partnership between patients and providers. She understands that everyone is unique and has individual experiences, problems, values, and beliefs that may contribute to their mental health journey. Her primary focus is to provide a safe environment for healing, making sure she takes the time to address the person as whole. Jamillah focuses not only on each patient's list of mental health symptoms, but also their strengths, fears, triggers, available support systems, and most importantly – the patient's own desires to participate in their mental health treatment plan.
Jamillah specializes in diagnosing, treating, and prescribing medications for all ages, but has a special interest in adult and geriatric populations. She is passionate about psychotherapy, and believes therapy plays a crucial role in a holistic treatment plan. Jamillah is experienced in providing brief therapeutic interventions and coordinating with patients' therapists to bring about the best outcomes for her patients.
Jamillah is married with two children. She loves to travel and has been to 35 countries thus far. She enjoys eating out at new places and spending time with her family and friends.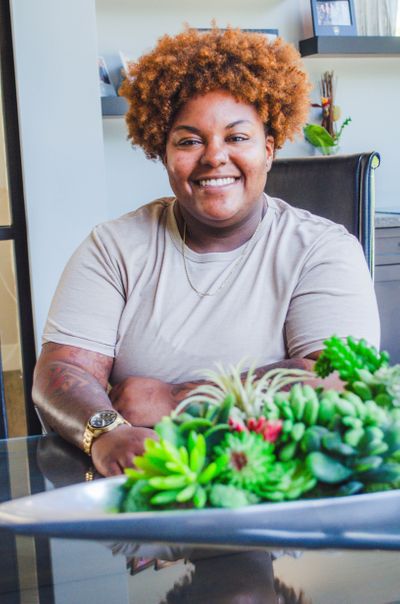 Ashley Graham
APRN, MSN, PMHNP-BC
As a board-certified psychiatric mental health nurse practitioner, Ashley G. offers comprehensive and individualized care for children, teens, and adults at our main office in Tomball.
Ashley graduated with her Bachelor of Science in Nursing at UTMB Galveston in 2016. Since then, Ashley has worked as a Registered Nurse advocating fiercely for those she cares for, with experience in critical care, med-surge, and inpatient psychiatric settings. Although Ashley is originally from Port Arthur, she obtained her Masters of Science in Psychiatric Nursing from Frontier Nursing University in Kentucky, and came to Houston to pursue her passion for nursing. She is passionate about caring for all individuals no matter their circumstance and believes that medication is only one part of truly treating an individual. As an advocate of the LGBTQ+ population, Ashley strives to work with people of all gender identities, sexual orientations, and races to provide inclusive, empathetic, holistic, and comprehensive care plans for all of her patients.
Ashley currently lives with her 80lb Boxer named Ziggy. In her free time, she enjoys metaphysical practices such as yoga, guided meditations, and sound baths. Ashley likes to journal, garden, and spend time with her close group of friends.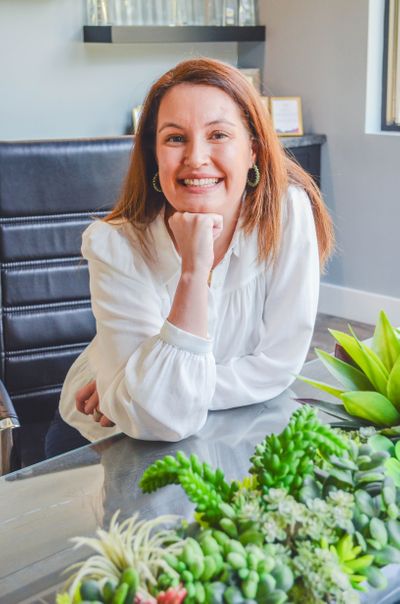 Amanda Rogers
Licensed Clinical Social Worker
For more than a decade, Amanda has worked in the field of mental health and wellness, specializing in the treatment of depression, bipolar disorders, anxiety disorders, trauma, grief, and women's mental health. She received her Bachelor's degree in Applied Life Sciences from the University of Louisiana at Lafayette in 2006 and went on to receive her Master of Social Work (MSW) degree from Louisiana State University in 2008, and has since worked in both inpatient and outpatient settings providing individual, family, and group therapy. Drawing from her training in multiple therapy modalities - such as EMDR, CBT, Jungian, person-centered, humanistic, strengths-based, and mind-body approaches – Amanda is truly able to individualize therapy to suit each person's needs. As the co-owner of Sulcata Psychiatry, she works closely with our other providers to coordinate care between therapy and medication management, if indicated.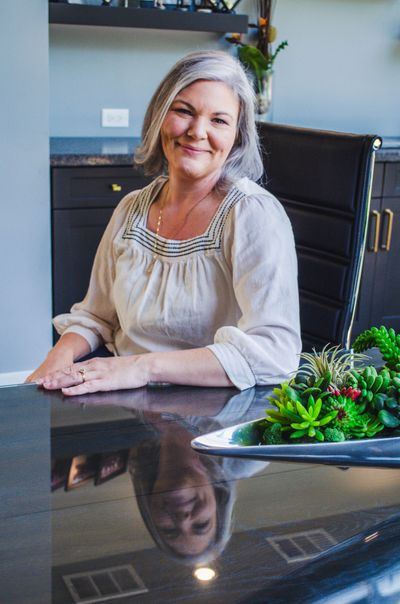 Ashley Silver
Licensed Clinical Social Worker
Since 2009, Ashley has worked in mental health specializing in helping clients adjust to life stage transitions and stressors. Her passion is to help clients navigate life stages and changes appropriately using healthy tools. She received her undergraduate in Social Work from Southeastern Louisiana University in 2005, and graduated in 2009 with her Masters in Social Work from Southern University in New Orleans. Ashley is committed to the team approach at Sulcata Psychiatry and works closely with all the providers to achieve client-centered goals in therapy. She has experience in multiple settings, including acute care case management, which she draws upon to formulate an eclectic and strengths based treatment approach for her clients. She is widely practiced in CBT and client centered approaches, focusing on each client's individual goals to determine the best therapeutic approach to improve the client's emotional and life functioning. She also incorporates systems-based approaches as necessary for families or couples needing help with relationships or communication.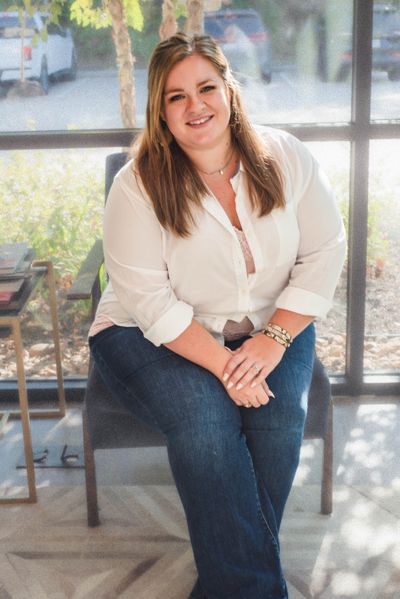 Erin Dennis
Licensed Professional Counselor - Associate
Erin specializes in child and adolescent therapy, as she has extensive experience working with youths diagnosed with Autism and other developmental disorders. She completed her Bachelor of Science in Psychology (2016) and her Masters of Science in Clinical Mental Health Counseling (2020) from Wright State University in Fairborn, Ohio. She is currently licensed as an Associate Licensed Professional Counselor (LPC-A) and is working on finishing her supervision hours under Robert Ferow, LPC-S (LIC# 62346) for full independent licensure. Her clinical experience includes years of working with children ages 5-18 and adults in various settings including inpatient and crisis stabilization, day treatment centers, group therapy settings, juvenile justice departments, and private practice.
Erin believes in the importance of treating the family as a whole and is passionate about her connection with her clients and their families. Although she specializes in individually treating children, Erin also incorporates family and group therapy sessions to her practice as needed. She also sees adults with mood and anxiety disorders. Her therapy style consists of an eclectic humanistic approach including Person Centered, CBT, and Mindfulness based therapies. Erin believes that an individual is the master of their own mind, and everyone is capable of finding a sense of self-actualization that leads to growth and fulfillment. She has a passion for helping children and young adults experiencing symptoms of anxiety, depression, ADHD, and difficulty with emotional regulation.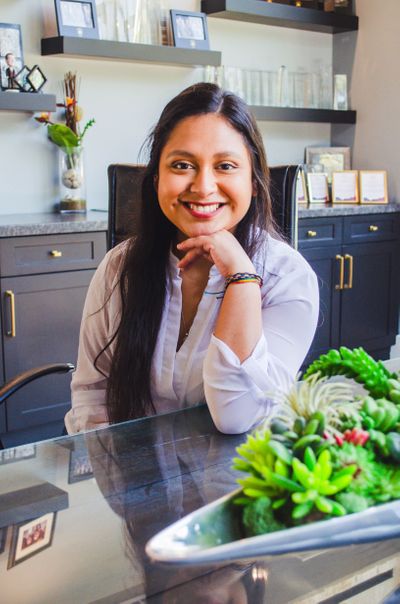 Angela Calkins, M.Ed
Diagnostician & Registered Behavioral Technician
Angela is a graduate of Stephen F. Austin University as a Masters Prepared TEA Certified Special Education Diagnostician and Registered Behavioral Technician with over 5 years of experience in the public school system performing educational evaluations, psychological testing, creating 504/IEP benefit plans, and implementing behavioral interventions for the school district. She performs Academic & Achievement Evaluations for ADHD, Autism, dyslexia, learning disabilities, and IQ for all age groups 2+ to assist providers with formulating diagnosis and treatment recommendations. In her previous role as a Registered Behavioral Technician, Angela has experience under supervision in creating and implementing specific interventions for problem behaviors related to these diagnoses. She offers consults with patients or parents to help with obtaining or interpreting accommodations in the school or workplace, preparing for ARD meetings, or advocating for your family member to get specific support.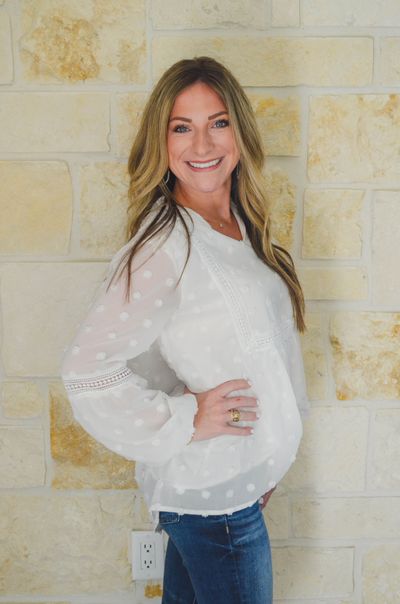 Madison Harrell
Office Manager
Madison is Sulcata Psychiatry's amazing Office Manager and one of the helpful voice on the phone when you call. She is available to assist with patient coordination, scheduling, and billing at Sulcata Psychiatry. Madison also supervises our Spravato program and works on getting all our patient medications approved through insurance.
Madison has a degree in Healthcare Business Administration and has several years of experience coordinating medical care for patients. Madison is always warm, kind, and willing to help. She frequently goes out of her way to get our patients the help or answers they need and is just as passionate about your mental health progress as our providers are. She embodies the high-quality empathetic care that we aim to provide all of our patients from the moment they contact the clinic.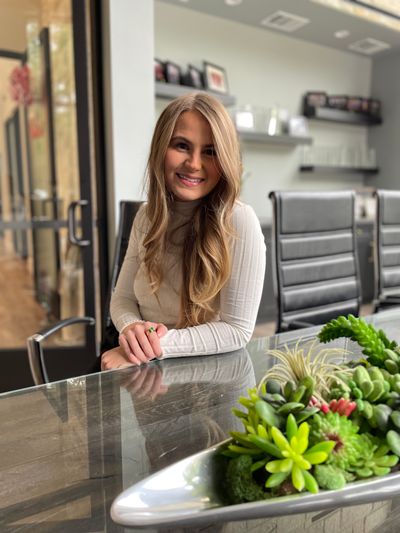 Madonna Liles
Medical Receptionist
Madonna is Sulcata Psychiatry's wonderful medical receptionist. She is responsible for all patient coordination, scheduling, and billing at Sulcata Psychiatry.
Madonna has several years of experience working in a busy emergency department assisting the care teams and coordinating patient care. She is empathetic and kind, always quick to respond, and models the warm-hearted connectedness that is a standard of care at Sulcata Psychiatry.